Sisyphus
Cinematography
12', 2018, directed by Driss Aroussi
— IFFR International Film Festival Rotterdam, Holland, January 2019
— CorsicaDoc - Ajaccio, France, 2018
— Immaterial Collection, Beyrouth, Lebanon, 2018


In the Moroccan desert, a man extracts stones from a mountain and breaks them. His perpetual labour becomes an act of meditation, a demonstration of human dignity in its most austere form. Poetic and yet purely documentary, this desolate scene points out humanity's place in the universe.






---





Blue Sky from Pain

Direction / Cinematography / Editing
15' , 2016, in collaboration with Hyacinthe Pavlides & Laurence Pillant
— Valladolid International Film Festival ( Seminci ), Spain, 2017
— Doc en Mai - Bordeaux, France, 2017
— IFFR International Film Festival Rotterdam, Holland, 2017
— Jean Rouch International Film Festival, Paris & Marseille, France, 2016
— Carthage International Film Festival, Tunisia, 2016
— Jihlava International Documentary Film Festival, Czech Republic, 2016
— Drama Short Film Festival, Greece, 2016


A man is imprisoned without knowing why. Where is he ? For how long ? Using images from abandoned detention centres for migrants in Greece and a reconstruction of a story , Blue Sky from Pain submerges us in a suffocating atmosphere, erased, in ruins…





---





Komorebi

Cinematography
15', 2018, directed by Laurence Saussez
— Exhibited at MAD Musée des Arts Décoratifs, Paris, France, 2018 - 2019


A documentary portrait of Takeshi Nishimura, an expert of the dying art of the katagami : The Japanese craft of making paper stencils for Kimonos.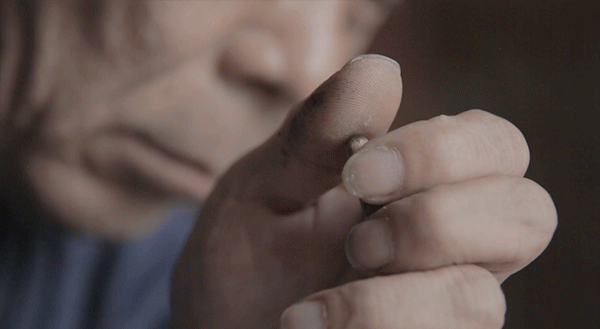 ---





Achayef

Cinematography
19', 2018, directed by Abdessamad El Montassir
— Exhibited at IFA gallery Berlin, Germany, 2018 - 2019


The stories collected by Abdessamad El Montassir in the Sahara of southwestern Morocco are micro-histories that the artist renders visible. Achayef reveals views obscured by official accounts of History.